 Please join us in welcoming Matt Watson to the Budnick team. Matt brings 16 years of industry Sales and Marketing experience to Budnick. He formerly spent 10 years with Tesa Tape in various Sales and Marketing roles, including Appliance Sales Manager. Matt has already proven to be a dedicated worker and valuable asset to Budnick. He's looking forward to creating a very customer focused Inside Sales Support Team.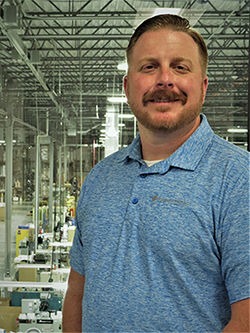 Here is a little Q&A we did with Matt:
What does Budnick's tagline, Converting Ideas Into Solutions, mean to you?
MW: Converting Ideas Into Solutions to me means listening to our customers, identifying their priorities, and utilizing our expertise to deliver value to their business. I am amazed at how creative everyone at Budnick is in helping deliver the BEST solution for our customers.
What is your role at Budnick?
MW: In my role as Inside Sales Manager, I am responsible for leading a group of Inside Sales Reps and Business Development Reps, as well as our team of Account Managers. Our teams are working hard everyday to try to find solutions for our customers and deliver the highest level of customer service in our industry.
What does a typical day look like for you, and what are you currently working on?
MW: Typical Day? No such thing! Each day is different which is what I love about my role. Currently, I am focused on forming a new team of Business Development Representatives (BDRs) that will work in conjunction with our Outside Sales Teams.