 Budnick's Printing Services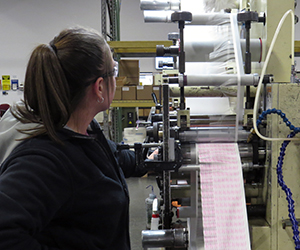 Budnick has a variety of printing services to fit your specific needs. Flexographic printing is ideal for printing large static runs of up to three colors. Flexographic printing is a great process for almost any rolled material, and can be performed in-line with both laminating and die-cutting processes.
Inkjet is best suited for large single-color projects of sequential or variable information and allows design freedom since it can be done without expensive print plates.
Thermal printing is ideal for shorter runs of bar codes, variable, or sequential information and is a quick method to print short projects on specialized thermal stocks. As with inkjet printing, print plates are not required.
Budnick also offers hot foil stamping services – foil stamping has been proven to increase the visibility and perception of goods, making your products, displays, and labels stand out against the competition. We have integrated the foil stamping process in line with die-cutting and other printing processes to streamline production and reduce cost.
To read more about about Budnick's printing services, click here.