 Budnick Converting Opens New Corporate Headquarters
FOR IMMEDIATE RELEASE
Columbia, IL - September 23, 2019 - Budnick Converting, Inc., an industry-leading converter and distributor of adhesive tapes and foams, officially opened its brand-new corporate headquarters at 340 Parkway Drive in Columbia, Illinois. The newly built 112,000 square foot facility more than doubles the size of Budnick's previous operations, providing the necessary space to facilitate the company's recent and future growth.
The new structure includes 87,000 square feet of manufacturing, production and warehousing space, and 25,000 square feet of office space including the ground floor, a mezzanine area, a break room, conference rooms, and other commons areas.
With the expansion, Budnick plans to increase its current employment in Columbia by 10 percent. Owner/President, Ann Wegmann, said, "I'm so excited to see the enthusiasm within our Budnick family and I know the recent expansion positions us to take even better care of our customers. The additional space supports past and future growth. It allows us to invest in even more personnel and capabilities to better serve the market."
Built by Kadean Construction, the new location sits on eleven acres, two lots west of Budnick's previous headquarters. Kadean Construction retained Gray Design Group as the project's architect, J.R. Grimes Consulting Inc. for civil engineering, KPFF St. Louis for structural engineering, Lowry Electrical, and numerous St Louis area subcontractors for carpentry, plumbing, concrete, and other work.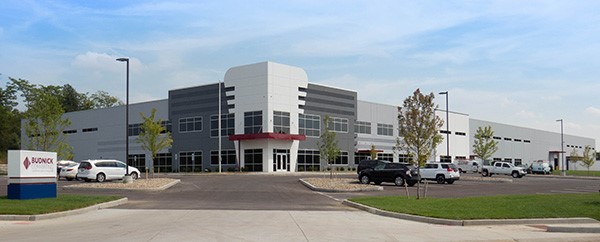 New Budnick Corporate Headquarters located at 340 Parkway Drive, Columbia, IL
About Budnick Converting, Inc.
Budnick Converting, Inc. was founded in 1952 and is headquartered in Columbia, IL, within the St. Louis metropolitan area. Budnick is an ISO 9001 certified converter and distributor of adhesive tapes and foams. The company's primary converting services include slitting, die-cutting, printing, spooling, adhesive coating, laminating, and other precision cutting services. Budnick offers services for various industries, including Appliance, Automotive, Electronics, Building Supply, POP/Signage/Printing, Transportation, Moving and Storage, Medical, Aerospace, and Distribution. Budnick Converting, Inc. is certified as a Women's Business Enterprise and has sales, distribution or converting locations in St. Louis, Kansas City, Charlotte, Chattanooga, Oklahoma City, Dallas, Atlanta and Tampa. It also has a joint venture converting company, Excel Cuts, in Monterrey, Mexico. For more information, visit www.budnick.com.
Contact info:
Zach Heller
Budnick Converting, Inc.
340 Parkway Dr, Columbia, IL 62236
(618) 719-2132 zachhe@budnick.com