 Waterjet Cutting Services
The CNC controlled ultra-high pressure water stream cuts almost any material to extremely tight tolerances. The elimination of tooling costs makes it ideal for when conventional methods are unavailable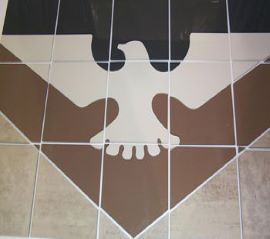 Waterjet Cutting for Flooring & Inlay Designs
Budnick's waterjet cutting services offer unlimited design capabilities to the flooring industry. Depending on the project and material requirements, inlay cuts are made with a precise stream of either water or an abrasive jet combination of garnet and water. Materials cut include Tile, Marble, Wood, Stone, Carpet, Wood, Pavers, Linoleum, Porcelain and more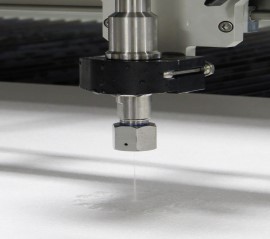 Industrial Waterjet Cutting
Industrial companies utilize Budnick for the toughest fabrication where conventional cutting methods are unable to produce quality parts. Budnick waterjet cuts materials that include Steel, Granite, Plastic, Cardboard, Laminates, Titanium, Ceramic, Leather, Gasket Material, Polystyrene, Plexiglass, Rubber, Cloth, Composites, Aluminum, Foam, Wood, Kevlar, Muntz, Pavers, Porcelain, VCT, Paper, Brass, Marble, Paper, Particle Board, Heat Sensitive Materials, Glass, and more
Benefits of Waterjet Cutting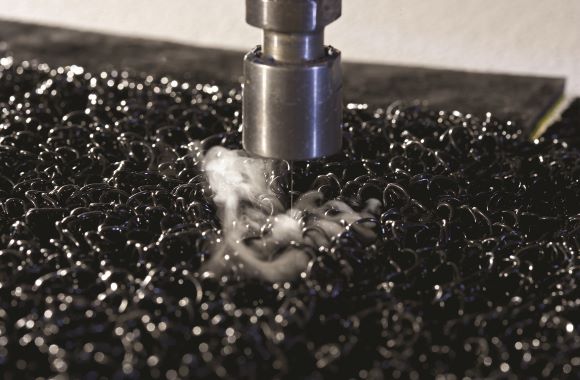 Waterjet Cuts What Can't Be Machined
The Waterjet cutting process is able to cut materials like laminates, phenalics, composites and most metals that were previously "unmachinable". These cuts are made without fracturing, chipping or thermal stress.

Waterjet Maximizes Material Yield
Waterjet cutting maximizes material yield by cutting along common edges with no waste (kerf). Even irregular parts are computer formatted to maximize your material yield.

Quality Cut Parts
Waterjet of St. Louis can cut parts to tolerances as tight as +/- .005", which is perfect for inlay parts. Moreover, waterjet cuts do not create burning, hardening or thermal stress like laser cutting can.

Budnick's Capabilities
By operating 3 machines over two shifts, Budnick has the capacity and the flexibility to meet your demands. Waterjet cutting reduces tooling costs, increases part output and eliminates most finishing operations. No grinding, filing, sanding or polishing on the toughest materials around.


Materials We Waterjet Cut
• Steel • Granite • Plastic • Cardboard • Laminates • Titanium • Ceramic • Leather • Gasket Material • Polystyrene • Plexiglass • Rubber • Cloth • Composites • Tile • Aluminum • Foam • Wood • Kevlar • Muntz • Pavers • Porcelain • Linoleum • VCT • Paper • Brass Marble • Paper • Carpet • Particle Board • Heat Sensitive Materials • Glass & More