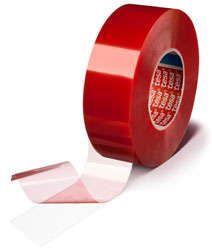 tesa tape inc
4965
Double Coated Temperature Resistant Tape
4965 is an 8 mil transparent double-sided self-adhesive tape consisting of a PET backing and a modified acrylic adhesive with a red polypropylene release liner. The adhesive system is especially resistant to plasticisers and offers a secure bond even at elevated temperatures.
| | |
| --- | --- |
| Backing | PET - Polyester |
| Adhesive | Acrylic |
| Thickness | 8.1 Mils |
| | |
| --- | --- |
| Tensile | 11.42 lbs/in |
| Elongation | 50.00% |
| Adhesion (liner) | 127.91 oz/in |
| Adhesion (unwind) | 127.91 oz/in |
| | |
| --- | --- |
| Min. Application Temp | 40° F |
| Min. Service Temp | 0° F |
| Max Short-Term Temp | 392° F |
| Max Long-Term Temp | 212° F |
Product Features
Transparent adhesive with red polypropylene release liner
Secure bond at elevated temperatures
Suitability for most demanding applications such as heavy stress, high temperatures or critical substrates
Reliable bond even to LSE substrates
Immediate usability right after assembly
UV, aging, and plasticizer resistance
High tack coupled with high adhesive strength
4965 is recognized according to UL standard 969. UL file: MH 18055
Markets Served
Automotive
Appliance
Electronics/Electrical
Commercial printing
Adhesive Tape Applications
Mounting of ABS plastic parts in the car industry
Mounting of rubber/EPDM profiles
Mounting of decorative profiles and furniture profiles
Ideal for die cut operations
Mounting of cell phone components
Mounting of battery packs, lenses and touch-screens in electronic devices
Permanent mounting of PP to a polyurethane, foot guard to foot plate
Mounting and bonding applications in the appliance industry
Adhesive Tape Colors
Data provided by Budnick Converting, Inc.
The physical properties listed are typical values and are not to be considered as specifications. Our suggestions for use are based on tests we believe to be reliable. However, the purchaser must carry out their own tests to determine the suitability of the product for their internal use. Information is given in good faith, but without warranty.
It is essential, as with all pressure-sensitive tapes, that the surface to which the tape is applied be clean, dry and free of grease and oil.
Shelf life from date of manufacture is based on the product being stored at 70°F(21°C) / 50% relative humidity out of direct sunlight.
Specification compliance is dynamic and should only be used as a general guide. Always confirm that the tape you are interested in currently complies with all specification requirements. Please verify that the product number that you select is available in the proper size and color to meet your specification.