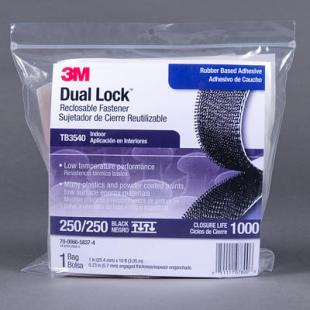 3M

TB3540
Trial Bag 2 Rolls Dual Lock Ind. 250/250 rubber
Mushroom shaped stems on one side of the fastener interlock with identical ones on the other side for 5x greater closure strength than hook and loop closures, yet peel apart for opening. Quickly and easily adjust or reattach until precisely aligned then "snap" into place. Choice of stem density per square inch (170, 250, 400) allows you to adjust the closure strength. Low profile option has half the thickness. Lose the screws to improve design appearance and maintain surface integrity.

TB3540, the most popular DualLock trial bag, features a rubber based adhesive on the back of a black, polypropylene reclosable fastener. 250 stems per square inch. .23 inch engaged thickness. Closure life 1,000.
| | |
| --- | --- |
| Backing/Carrier | PP - Polypropylene |
| Adhesive | Rubber |
| Thickness | 140 Mils |
| | |
| --- | --- |
| Tensile | |
| Elongation | |
| Adhesive Activation | Pressure |
| Adhesion (unwind) | |
| | |
| --- | --- |
| Min. Application Temp | 40° F |
| Min. Service Temp | |
| Max Short-Term Temp | 120° F |
| Max Long-Term Temp | |
Product Features
A black fastener with mushroom shaped stems that is backed with a rubber based pressure sensitive adhesive.
Type 250 stem density polyolefin fastener which mates to Type 170, 250 or 400.
Designed to bond to many plastics, powder coated paints and other low surface energy materials.
Markets Served
Recreational
Industrial
Commercial printing
Signage, Banners, & Printing
Arts & Entertainment
Construction
Adhesive Tape Applications
Attach Doors
Access panels
Signs
Display Components
Adhesive Tape Colors
We're sorry, there are no sizes currently available for this product.
Data provided by Budnick Converting, Inc.
The physical properties listed are typical values and are not to be considered as specifications. Our suggestions for use are based on tests we believe to be reliable. However, the purchaser must carry out their own tests to determine the suitability of the product for their internal use. Information is given in good faith, but without warranty.
It is essential, as with all pressure-sensitive tapes, that the surface to which the tape is applied be clean, dry and free of grease and oil.
Shelf life from date of manufacture is based on the product being stored at 70°F(21°C) / 50% relative humidity out of direct sunlight.
Specification compliance is dynamic and should only be used as a general guide. Always confirm that the tape you are interested in currently complies with all specification requirements. Please verify that the product number that you select is available in the proper size and color to meet your specification.