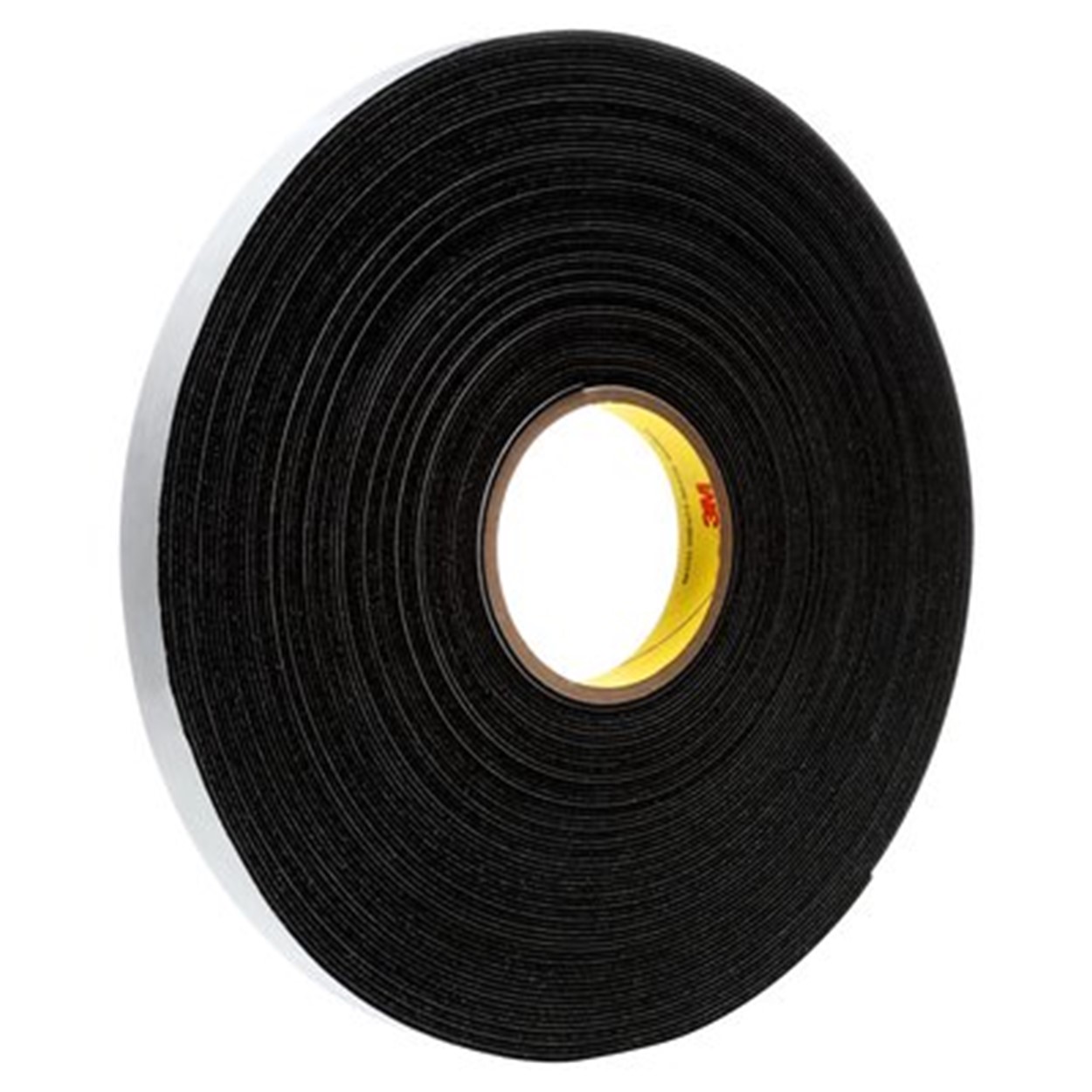 3M

4516
Single Coated Vinyl Foam Tape
A 62.50 mil. vinyl foam tape featuring 430 acrylic adhesive on a thick silicone liner used for many sealing applications. 4516 is a flexible, black high-density, closed-cell foam tape with a pressure-sensitive adhesive on one side. The liner is applied to the non-adhesive side of the foam so the PVC can be cut to length and applied while leaving the liner in place. 4516 tape belongs to the 4500 series which is a durable and flexible closed-cell vinyl tape family. The 4500 series helps seal out dust, light and moisture when placed under 30% compression. The vinyl family offers excellent aging characteristics and will remain flexible when exposed to elevated temperatures and UV light. 4516 tape also adheres to a variety of substrates, including latex painted wood, lacquered wood, enameled steel, glass, aluminum, stainless steel, acrylic, ABS and PVC (non-plasticized). The tape adhesion is typically satisfactory within 20 minutes and continues to build with additional time. The solvent/ fuel resistance test consists of a visual observation of tape bonded to steel panels and immersed totally in solvent/ fuel for 24 hours.
| | |
| --- | --- |
| Backing/Carrier | PVC - Polyvinylchloride |
| Adhesive | Acrylic |
| Thickness | 62.5 Mils |
| | |
| --- | --- |
| Tensile | 130.00 lbs/in |
| Elongation | 200.00% |
| Adhesive Activation | Pressure |
| Adhesion (unwind) | |
| | |
| --- | --- |
| Min. Application Temp | 50° F |
| Min. Service Temp | 0° F |
| Max Short-Term Temp | 250° F |
| Max Long-Term Temp | 150° F |
Product Features
A-30 acrylic adhesive
3.0 mil. white paper liner
Not resistant to acetone and MEK
High density
Can be cut to length with liner in place
Resistant to ammonia cleaner, engine oil, gasoline, JP-4 (jet fuel), mineral spirits and soapy water
Excellent aging characteristics
Flexible after elevated temperatures and UV exposure
Cold flex a zero degrees Fahrenheit slowly bent around a 1/4in diameter mandrel: no cracks
Adhesive Tape Applications
Dust and moisture seal for appliances, computers, copiers, along with other electronics and transportation equipment
Adhesive Tape Colors
Data provided by Budnick Converting, Inc.
The physical properties listed are typical values and are not to be considered as specifications. Our suggestions for use are based on tests we believe to be reliable. However, the purchaser must carry out their own tests to determine the suitability of the product for their internal use. Information is given in good faith, but without warranty.
It is essential, as with all pressure-sensitive tapes, that the surface to which the tape is applied be clean, dry and free of grease and oil.
Shelf life from date of manufacture is based on the product being stored at 70°F(21°C) / 50% relative humidity out of direct sunlight.
Specification compliance is dynamic and should only be used as a general guide. Always confirm that the tape you are interested in currently complies with all specification requirements. Please verify that the product number that you select is available in the proper size and color to meet your specification.